Following on from the popularity of of our recent podcasts, we decided that we should have a special, and of course we chose the comical and terrifying genre of
Heavy Metal
. Jon donned his worn leather jacket with tassels down the arms and got all excited and chose a selection of amazing tracks from a lifetime of listening and they are all plonked together with our usual rambling and senseless chatter. We even intercut a few stupid ideas suggested by our dear listeners. The cover artwork comes courtesy of
Craig Earp
who's gore pillows have left a lasting impression on us.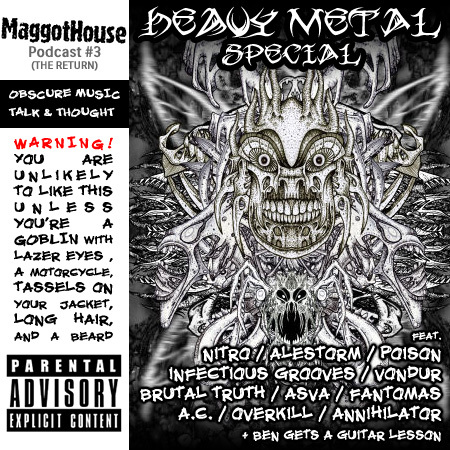 The podcast is tagged is...
"An hour dedicated to all things Metal - from Hair Metal, Cock Rock, Grind, Death and Black Metal to Funk, Thrash and Pirate. This special edition podcast is a dip into the otherwordly anthems and oddities from the genre and brutal cover songs."
But there is a warning :
Your unlikely to like it unless your a goblin with lazer eyes, a motorcycle, tassels on your jacket, long hair and a beard. So beware!!
Listen using the player below (or click blue button to download) or listen online at
Podomatic